What Does a Dentist Office Do?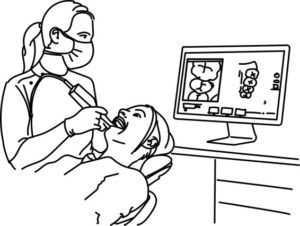 A dentist's office is a business establishment run by a dentist and his or her staff. Apart from offering dental services and handling treatments, it takes care of clerical and financial matters associated with your treatment.

You can find a dentist's office either through recommendations from your relatives and friends or by searching the internet with the keyword dentist office open near me.

However, while searching on your own you need to be careful. This is because there are indeed some people of dubious nature whom you might encounter. So, look for certifications. To understand what a dentist's office does, you must first know the components of the dentist's office, the roles of the people involved, and the services offered.

Components of a Dentist Office

Every dentist office ideally has the following components:

Reception Area

This is the place where you would have to spend your time while you wait for your Dentist.

Computers and Patient Records

This is where the desk staff would register your details if you are a new patient or retrieve your medical records and insurance information on the computerized system if you have visited before.

Dental Clinic

It is the room or space where the dentist is going to treat you. It usually has several pieces of equipment like the dental chair, lighting, dental suction unit, mouth mirrors, dental explorer, dental drill, excavators, dental syringe, laser systems, and so on.

Staff in a Dentist Office

A dentist's office promotes a team approach to treatment-related matters and provides care that is comprehensive, convenient, cost-effective, and efficient. The team comprises the dentist, dental assistant(s), lab technicians, dental hygienists, and desk staff.

Dentist

The dentist has earned either a Doctor of Dental Medicine (DMD) degree or a Doctor of General Surgery (DDS) degree, both of which are essentially the same. The dentist's responsibilities include:
Diagnosis of oral diseases

Interpreting x-rays and diagnostic tests

Creating treatment plans to maintain and restore patient's oral health

Ensure that anesthesia is administered in a safe way

Perform surgical procedures on the teeth, bones and soft tissues of the oral cavity
Dental Assistants

Dental assistants either had on-job training or a graduate of a dental assisting program. They assist the dentist during restorative procedures. Often it is seen that the dental assistant serves as the backbone of a dentist office. He or she may be seen greeting and escorting the patient, preparing and managing the work area for treatments and procedures and even scheduling appointments, managing computerized records, and processing insurance billing and claims which is the job of the desk staff. 

Lab technicians

Lab technicians could also be trained on the job or have two to four years of laboratory technology education. They are responsible for making crowns, bridges, partial and full dentures, and also other dental appliances as per the dentist's prescription. 

Dental Hygienist

A dental hygienist working in a dentist's office may have spent two to four years in dental hygiene school and is also a licensed professional (RDH/LDH). He or she is responsible for the preventive portion of patient treatment, like imparting oral hygiene education to the patient.

Desk Staff

Although receptionist and desk staff roles do not require specific education in dentistry, they play important roles in ensuring that the dentist's office runs smoothly and efficiently.

Services Offered by a Dentist Office

A dentist's office offers many services so it's advisable to learn them before opting for one. Below is a comprehensive list that should help you get an idea of the service offerings.
3D X-ray/CBCT

Dentures

Sedation Dentistry

Laser Therapy

Preventive Care

CAD/CAM – CEREC

Endodontics

Dental Implants

Veneers

Cosmetic Restorations

General Dentistry

Sleep Apnea Appliances
Conclusion

Your search on the internet for 'dentist office open near me' will yield many results so you need to have some knowledge about what a dentist's office does and the above-mentioned tips should make your job easier. Remember, an efficient dentist office will not only provide good treatment but also understand the distress of its patients and act accordingly. So how do you choose a dentist? Do you've any questions? Please feel free to leave your comments below, we'd love hearing from you.