Step-by-Step Guidelines for Finding the Best Dentist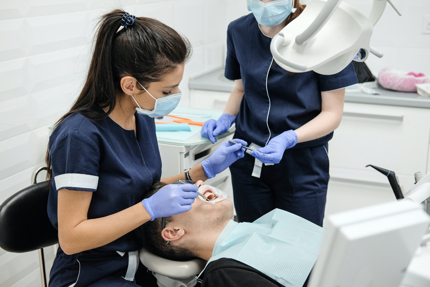 There are many reasons to find a new dentist, say your relocation to an unfamiliar community or finding a pediatric dentist for your little one, or the necessity to find a dentist whose consultation is covered by your new insurance; no matter the reason, it is an arduous process that needs to be undertaken by considering various factors. So, where do you begin?
●  Establish your objective
Begin the search for a dentist with a clear frame of understanding of your objective, i.e., if you are looking for a long-term engagement with a dentist for regular oral check-ups or taking care of a dire dental emergency like getting a root canal or dental implants.
If your priority is long-term dental care for your entire family, setting the goal will guide you in your search for a dentist or team that serves all generations.
●  Get Referrals
Word of mouth plays a huge role in making someone a household name. You can note the names suggested by friends, relatives, and neighbors and choose by elimination based on your research and preference. Getting a referral from your previous dentist or physician is also a reliable route to take. You can also get a referral from the dental societies in your state or locality.
●  Inquiry and Evaluation
Experts advise that a final decision on your dentist should only be made after carefully pondering the selection's pros and cons. There are many points to consider, such as
○  proximity to the clinic
○  working hours
○  fees and insurance coverage
○  emergency care support and facilities
○  hygiene and social responsibility etc.
You can only form a rational decision after gathering an all-encompassing impression of the service provider.
Your relationship with the dentist is founded on trust and cooperation. Hence, it would help if you first gained confidence in their ability, i.e., their qualification(they must be a member of a qualified dental association like ADA, AAOSH, AADSM), specialization, years of experience. A doctor who refuses to settle into complacency but regularly partakes in medical seminars and workshops would naturally stand out among their counterparts who don't.
It is imperative to note that your dentist must have a valid license approved by the state board to offer their services in your location. A license indicates the doctor's qualification recognized by law.
Testimonials and reviews from former clients also give you insights into your potential dentist's skills and disposition towards the patients. Visiting official websites, discussion forums, and interactions with peers and relatives act as useful information sources.
●  Medical Insurance Network
Dental care and treatment tend to be pricey in a lot of cases. Therefore, a practical approach to making a suitable choice is to list down the popular dentists who are included in your insurance network. With the issue of insurance coverage dealt with, you can train your attention on other equally important criteria like qualification and public opinion.
●  Sound them Out
Never shy from contacting the dentist via phone or making an appointment to get an in-person consultation to grasp your response and impression of the doctor. You should choose a dentist who makes you feel at ease around them, takes the effort to offer you tips on functional dentistry, or patiently explains to you the condition of your mouth with compassion. Direct inquiries serve the advantage of gathering first-hand information on multiple aspects like
○  Finding out if your schedule can accommodate their working hours
○  Their policies on making or rescheduling appointments
○  Confirm if their services are included in your insurance network; if not, you can try to make a straightforward negotiation.
○  Find out their fee structure for various services.
○  Verify their license, qualifications, and specializations, etc.
For instance, a new resident's local search for the best dentist McClean VA, would redirect them to the top service providers who meet a lot of benchmarks:
○  Competence
○  Hospitality
○  Specialization
○  Diversity of services
○  Facilities and technology
○  Affordability etc.
The general warmth coupled with professional care will give a broad perspective on whether they are the best dental expert for you